This web feature was written by Imelda Bargas, Neill Atkinson and David Green and produced by the NZHistory.net.nz team.
Thanks to Infofind (the Radio New Zealand library) for access to their collection of the New Zealand Listener.
Links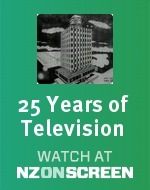 Books
Robert Boyd-Bell, New Zealand television: the first 25 years, Reed Methuen Publishers Ltd, Auckland, 1985.
Patrick Day, Voice and vision: a history of broadcasting in New Zealand, Volume Two, Auckland University Press, Auckland, 2000.
John Dix, Stranded in paradise: New Zealand rock and roll 1955 to the modern era, Penguin Books, Auckland, 2005 (first published 1988).
Roger Horrocks, 'The history of New Zealand television', and Laurence Simmons, 'Television then', in Roger Horrocks and Nick Perry (eds), Television in New Zealand: programming the nation, Oxford University Press, Oxford, 2004.
Geoff Lealand and Helen Martin, It's all done with mirrors: about television, Dunmore Press Limited, Palmerston North, 2001.
Paul Smith, Revolution in the air, Addison Wesley Longman New Zealand Limited, Auckland, 1996.
Barry Spicer, Michael Powell and David Emanuel, The remaking of Television New Zealand 1984–1992, Auckland University Press, Auckland, 1996.