Christchurch-born Mauger was the motorcycle speedway rider to beat during the 1970s.
As well as a record six individual world titles between 1968 and 1979, including three in a row from 1968 to 1970, Mauger also won the long track world championship three times between 1971 and 1976, and captained and coached New Zealand to a world team title in 1979.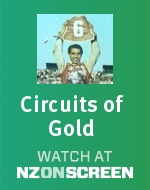 Mauger rode for a number of British speedway teams in a sport that is popular in central and northern Europe. By the time he retired in his mid-40s in 1985, he had won many more titles.
Recognised with an MBE in 1976 and OBE in 1989, he was one of the 75 inaugural members inducted into the New Zealand Sports Hall of Fame in 1990.
Internationally, Ivan Mauger's contribution to speedway was acknowledged when he was voted 'Millennium Man of Speedway' by the readers of Speedway Star and Vintage Speedway Magazine in December 1999.
After he completed his hat-trick of world titles in 1970, Mauger's Jawa 500-cc motorcycle was taken to the United States and gold-plated in fulfilment of a promise by two American enthusiasts, George Wenn and Ray Bokelman. It was later put on display at Canterbury Museum in Christchurch.
Read more on NZHistory
External links
How to cite this page
'Ivan Mauger wins sixth world speedway title ', URL: https://nzhistory.govt.nz/page/ivan-mauger-won-record-sixth-world-speedway-title, (Ministry for Culture and Heritage), updated 31-Jul-2017