Tex Morton was a Kiwi country and western singer, also known as the 'Yodelling Boundary Rider'. A prolific songwriter and recorder, as well as hypnotist and whip-cracker, his pioneering style eventually led him to Hollywood, and the Australasian Country Music Awards Hands of Fame.
Born Robert William Lane in Nelson, Morton left school early and started busking on street corners during the depression. In 1932 he recorded 20 songs, possibly the first country music to be recorded outside the United States. In 1933 he moved to Australia.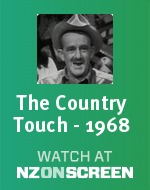 In Sydney, now known as Tex Morton, he began recording for Regal Zonophone, which made him the biggest music sensation either side of the Tasman. During this period, he added gun-slinging and whip-cracking to his repertoire, and began touring with his Wild West Rodeo Show. He was also composing and recording at a furious pace, mixing Australian ballads with American country music. It is said that, during his pre-war peak, his sales reached 10,000 records a month.
After the Second World War, during which he entertained Australian and New Zealand troops around the Pacific, he sold his live show and moved to North America. Here, he reinvented himself as 'The Great Morton', performing hypnotism and extrasensory perception, as well as his music, poetry and Wild West displays. During this period, he appeared as a cameo actor in Hollywood films and television.
In the late 1960s Morton toured New Zealand and hosted the 'Country Touch' TV series, and, in the 1970s, he featured in much Australian TV and film. In 1976 he was elevated to the Australasian Country Music Awards Roll of Renown.
Read the full entry in the Dictionary of New Zealand Biography.
How to cite this page
'Tex Morton', URL: https://nzhistory.govt.nz/people/tex-morton, (Ministry for Culture and Heritage), updated 8-Nov-2017