The Suburban Reptiles perform 'Saturday night (stay at home)'.
Punk hits town
New Zealand punks – like their spiky overseas counterparts – used the local tabloid press to create sensation. In 1977 the Sunday News rounded up a group of Auckland-based Clash fans, who said they were off to the wharf after the interview 'to kill seagulls'.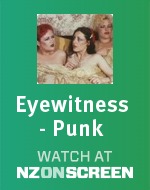 New Zealand Truth joined the chorus of outrage when pioneering Auckland punk band Suburban Reptiles strutted their stuff at the Victoria University Arts Festival in August 1977. It played up the notorious incident when the drummer in the Suburban Reptiles, 'Buster Stiggs', threw a stick into the audience and hit a young female fan.
In its report, entitled 'Punks live down to name', the New Zealand Truth claimed the festival was spoiled by 'these hooligans' and referred to spitting and abusing audiences.
The paper later gave sensational publicity to first 12-inch single by the Suburban Reptiles, 'Megaton', by focusing on the use of Nazi insignia on its cover. More people remember their second single 'Saturday night (stay at home)'.
The Suburban Reptiles returned to Wellington to headline the New Wave Spectacular at the Town Hall. Patrons at Palmerston North's Awapuni Hotel were not so keen on the pop phenomenon of 1977, and they attacked band members. New Zealand Truth followed up: 'When punk rockers Suburban Reptiles insulted patrons at the Awapuni hotel, they didn't bank on Manawatu muscle.'
Images of the Suburban Reptiles
This celebrated publicity snap of the suburban Reptiles posing by an Auckland building site was widely circulated. It even appeared in the essential British punk bible of the day, the New Musical Express.
Blonde singer Zero (here clad in a plastic rubbish sack) was always a glamorous focus for the band.
'Hit and run' proved a prophetic title for the band's 1977 foray into the Manawatu. Patrons at the Awapuni Hotel ended up attacking the Suburban Reptiles.
These lyrics, scribbled out by drummer Buster Stiggs, are for the first single, 'Megaton'.