John Walker is one of New Zealand's track heroes. His athletic career was punctuated by memorable performances and noted for its longevity. While the bulk of Walker's success occurred during the 1970s, he continued footing it with the best in the decade or so that followed.
Walker had an inauspicious start to his running career, losing his first ever race, aged about seven. Fortunately within a couple of years he discovered that running was something he could do well. He won most of his races at intermediate and high school despite concentrating more on tennis. It was only at the age of 19 that he began to take running more seriously. Recognising the teen's newfound commitment, Graeme Douglas, a member of the Manurewa Harriers club which Walker had joined while at high school, put him in touch with coach Arch Jelley.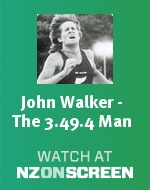 Jelley put Walker on his first real training programme and within a couple of seasons he had won his first senior national title, the 800 m at Hamilton in 1972. After successfully defending this title the following year, he made the New Zealand team for the Pacific Conference Games in Canada. That season he also raced the European circuit with fellow New Zealanders Dick Quax and Rod Dixon. It was invaluable experience that prepared him well for the 1974 Commonwealth Games in Christchurch.
In Christchurch Walker won bronze in the 800 m and silver in the 1500 m. The contest for the latter, described as 'The greatest middle distance race of all time', saw him line up against Tanzanian runner Filbert Bayi in the 1500 m for the first time. The following year in Helsinki he took Bayi on again in the 1500 m and won.
Later in 1975 Walker shot to international stardom when he became the first person to run a mile in less than 3 minutes 50 seconds, breaking Bayi's world record. It was a stunning achievement, as middle-distance great Peter Snell explained at the time:
Walker's achievement ranks as greater than Roger Bannister's first sub-four minute mile. Bannister achieved lasting fame when he broke four minutes and he'll probably be always better known than Walker. But this was a far better run.
The attention that followed was unlike anything Walker had experienced before. In his autobiography he commented on the expectation it produced, noting that the headlines of 'Walker fails' when he did not turn out the same performance the following week. The accolades kept flowing, among them New Zealand Sportsman of the Year, Athlete of the Year (Track and Field News) and the Lonsdale Cup.
When Walker won gold in the 1500 m at the 1976 Montreal Olympics he was relieved – happy in the knowledge that, unlike his world record, this could not be taken away from him. He dismissed criticism that it was the slowest 1500-m final since Melbourne in 1956. And four years later he put to bed any speculation that his old rival Bayi would have beaten him had he been able to participate by winning an overdue rematch before a tiny crowd in Budapest.
In recognition of his achievements during the 1970s Walker was voted sportsman of the decade. He continued competing until the early 1990s and became the first man to run 100 sub-4 minute miles. He won silver in a frustrating 1500-m final at the 1982 Commonwealth Games. He also made the finals of the 5000 m at the 1984 Olympics and 1986 Commonwealth Games, and the 1500 m at the 1990 Commonwealth Games.
Walker finally retired from top-level athletics in 1992 after turning 40. Four years later he announced that he was suffering from Parkinson's disease – but his active life continued. In 2008, while serving on the Manukau City Council, he launched the John Walker 'Find Your Field of Dreams' Foundation 'to get every kid in the Manukau active and involved in sport'. He also continues to run an equestrian supply store with his wife.
In June 2009 Sir John Walker became a Knight Companion to the New Zealand Order of Merit for services to sport and the community.
By Imelda Bargas
Further information:
How to cite this page
'John Walker', URL: https://nzhistory.govt.nz/people/john-walker, (Ministry for Culture and Heritage), updated 13-Aug-2018