The landmark Te Maori exhibition was a milestone in the Māori cultural renaissance. Featuring traditional Māori artwork, it toured the United States from 1984 to 1986 before returning to New Zealand for a nationwide tour in 1987.
New Zealand and American arts professionals first discussed the idea of a Māori art exhibition touring the United States during the early 1970s. The cost proved prohibitive and the idea was shelved until the New York Metropolitan Museum of Art ('The Met') revived discussions in 1979.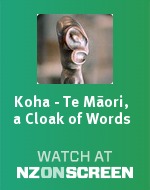 After securing some corporate sponsors, the government formally approved the proposal, setting up a management committee chaired by the Secretary for Maori Affairs, Kara Puketapu. A Māori sub-committee was also formed, with responsibility for deciding what role Māori would play in organising the exhibition and the traditional opening ceremonies.
This was the first time Māori were actively involved in the process of exhibiting their taonga overseas. The management committee recommended that Māori accompany the exhibition as guardians, ensured Māori were trained as guides, and helped arrange a dawn ceremony to open the exhibition at The Met. This included traditional elements such as karanga (call) and karakia (prayer) familiar to the 90-strong New Zealand party of kaumātua (elders), cultural performers, carvers, weavers and officials.
The Met was the exhibition's first stop on a tour of the United States, followed by the St Louis Art Museum, the M.H. de Young Memorial Museum in San Francisco, and the Field Museum in Chicago.
As Te Māori made international headlines, New Zealand's own media awoke to the nation's unique Māori point of difference. On its return to New Zealand, the exhibition was rebranded as Te Maori: te hokinga mai = the return home and exhibited in Auckland, Wellington, Christchurch and Dunedin. The organising committee worked with each venue to facilitate wider Māori participation as both hosts and guests. Visitors were welcomed by elders and expertly guided by kaiārahi (Māori hosts) who were direct descendants of the ancestors on display.
Following the closure of Te Maori in September 1987, the taonga were returned to the institutions from which they had been borrowed.
How to cite this page
'Te Maori exhibition opens in New York', URL: https://nzhistory.govt.nz/te-maori-exhibition-opens-in-new-york, (Ministry for Culture and Heritage), updated 4-Sep-2020